Donate to Sweetwater Youth Ranch
Meet Sweetwater Youth Ranch. Want to find out who we are and what we do? Take a few minutes to watch this video.Want to Help Out? Click the donate button below.
Testimonials
Sweetwater Youth Ranch has been such a blessing to our family! Our son, Joseph was struggling with speech development and had been in speech therapy for months when we started going to the ranch. In school when he could not perform the tasks at a desk that they would assign him, which he often could not, they would punish him by taking away the fun, physical activities. He hated it, he began to feel like something was "wrong" with him, and he was often having behavioral issues. I could see how he felt, and how ineffective the therapy was, but I had no idea how to help him which only left us (and him) frustrated and discouraged. By a chance meeting, Beverly invited us to visit the ranch. Joseph's first visit was a turning point, and he has absolutely blossomed since. He excitedly chatters to anyone who will listen about the ranch, and his speech drastically improved. He loves being outdoors, the hard work, the people, the animals, but most especially, his favorite horse, Biscuit. The ranch gave him a purpose and self-esteem that comes from a job well done. They always incorporate important Scriptural teaching in their sessions. The ranch helpers are excellent role models. It has been two years, and the ranch played a crucial part in Joseph having a successful Kindergarten year. We will always thank God for blessing us with Sweetwater Youth Ranch!
~ Kandis Deaton
I am so incredibly grateful to Sweetwater Youth Ranch for the love and support they have given my daughter Olivia. Olivia has had 2 heart transplants and many medical problems throughout her life. She is now 9 years old and has spent numerous hospital stays. Because of that Olivia has anxiety issues causing her to be fearful and stressed at times. Since coming to the ranch we have seen a difference with her. The first time she would not even touch the horse but after encouragement from the volunteers at the ranch she now will ride with much enjoyment. Her favorite horse is Biscuit and she tells everyone about him. She loves coming to the ranch and we are so grateful for the work they do. We Love the fact that they are Christian faith based program. Not only do they teach those values they live them as well. This ranch and its owners and volunteers have become like family to us and we look forward to many more memorable times with them and Biscuit.
~ Kim Landreth Mother of Olivia Landreth
LOVE ~ Offering children undemanding time with a horse helps develop trust
LANGUAGE ~ Helping children develop better communication skills helps build stronger relationships
LEADERSHIP ~ Instilling respect and responsibility in a Christ centered atmosphere helps children make better life choices
Trust, Respect, Responsibility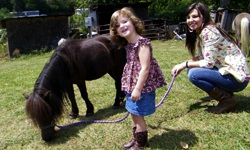 We are a 501(c)3
Mission
Our mission is to connect children with horses for a mutual relationship that forges trust, respect, and responsibility in a Christ centered environment.
Donate Now
Your gifts enable us to continue serving children and families at no cost to them. All monetary gifts, unless designated otherwise by the giver, are allocated to our general operating fund. This fund is used to pay for program expenses, horse care and ranch maintenance. We are profoundly grateful for your kindness and support. It is an honor to have you shouldering with us.
We have a list of items needed as well as a description of sponsoring opportunities on the About page.