Meet Sweetwater Youth Ranch. Want to find out who we are and what we do? Take a few minutes to watch this video.Want to Help Out? Click the donate button below.
Join The Cause… Help build an Arena
One thing I never ever want to say to a child is "I'm sorry, we have to reschedule because of the rain." This can be a reality and you can help! A covered arena would enable us to stay on track with our schedule giving much needed time with the horses to the children we serve.  Please consider  joining us with a one time or monthly tax deductible gift that will truly make a difference in the lives of many children.
Trust, Respect, Responsibility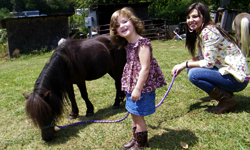 We are a 501(c)3
Our mission is to connect children with horses for a mutual relationship that forges trust, respect, and responsibility in a Christ centered environment.
Donate Now
Your gifts enable us to continue serving children and families at no cost to them.  All monetary gifts, unless designated otherwise by the giver, are allocated to our general operating fund. This fund is used to pay for program expenses, horse care and ranch maintenance. We are profoundly grateful for your kindness and support. It is an honor to have you shouldering with us.
We have a list of items needed as well as a description of sponsoring opportunities on the About page.